On November 21-22 2019 Helsinki will welcome over 25,000 attendees for the 11th annual SLUSH conference. Priding itself on being 'the most founder-focused startup conference in the world' SLUSH is a gathering of curious minds from around the world, including 4,000 startups and 2,000 investors. It's a magnet for founders seeking investment and partners and it's targeted by venture capital investors, corporate venture funds, family offices and private equity houses that are all seeking early access to the next big thing.
It's also the most colorful and impressively produced startup event in the calendar. Perhaps it needs to be as it also boasts some of the worst weather of any conference around the world.
Want to see what's in store this year? Check out this video link.
We had the rare opportunity to speak with Ilkka Kivimäki, previous Chairman of SLUSH. A career engineer with a strong corporate resume, he started supporting the startup scene in Helsinki more than ten years ago. Chairman of SLUSH until last year, he is a Partner at Maki.vc, an 80M€ early-stage VC fund investing in deep tech and brand-driven companies.
We wanted to find out from Ilkka, the visionary force behind the impressive development of SLUSH over the years, how startups can make the most of the event among the thousands of other startups vying for attention.
Need help preparing for SLUSH 2019? Check out our Marketing Services!
Getting in to SLUSH 100 (the application)
The SLUSH 100 startup competition selects 100 of the most promising startups from around the world to pitch on stage at SLUSH. At the end of the event one startup is crowned SLUSH winner and receives USD $100K investment. For the other 99 startups in the competition, there are still advantages, such as an opportunity to showcase to a large audience of receptive investors and the chance of coveted press coverage.
SLUSH has a strong heritage of supporting startups that promote the betterment of global society and the environment. If your company supports a good cause, such as minimising the environmental impact of industry or bettering society, include those details in your application, along with compelling data that proves your impact.
Winning SLUSH 100 (the pitch)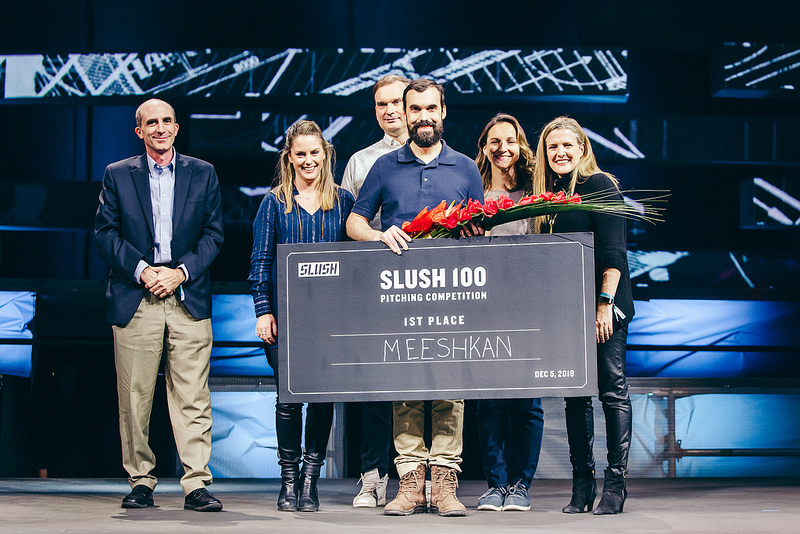 Ilkka: "No one cares about your technology!"
A five minute pitch is not enough time to explain the details of your technology and there's a good chance that the competition judges aren't experts in your particular technology. Going into too much detail could waste valuable time spent better describing how you're making the world a better place. In other words, clearly explain the VALUE you're creating, rather than spending too much time explaining the technology that powers that value.
Ilkka: "Don't put lipstick on a pig."
Be yourself and be honest about your company. The judges will warm to founders that are genuinely passionate about their business and their mission, so relax and enjoy your time on stage. This is your chance to shine and the audience and judges want to see you succeed. And if your startup really isn't geared towards saving the Amazon rainforest, don't pretend that it is to score points with the judges. They will see through your contrived storyline and it will hurt your pitch. 
Need help preparing for SLUSH 2019? Check out our Marketing Services!
Ilkka: "Show me the numbers."
A well crafted storyline around your business is important, but don't forget that hard data must be used to back up your claims. The judges want to see clear, quantifiable milestones, like user metrics or revenue — these help them gauge your level of success and ability to execute. Numbers also demonstrate you have a complete understanding of your business and a solid growth plan.
How to make the most of the event
1. How to meet investors
Ilkka: "Go to side events that are most likely to attract the investors you want to meet — the results will be exponentially better than trying to set up meetings during the conference."
Ilkka and other investors at SLUSH get hundreds of requests for 1-1 meetings during the conference. He believes this is not the most productive way to connect with investors. You need to hustle at the event and try to catch investors in smaller group settings, rather than on the main floor.
By all means do your research in advance to find out which investors will be at SLUSH, but be aware that reaching out ahead of the event will often not result in a meeting.
 2. How to pitch investors
 Ilkka: "The secret is to concentrate your story into two sentences." 
You won't secure investment in the first meeting at a conference, so don't try. The most important goal should be to spark interest, that will lead to a deeper conversation after the event. You can achieve that by developing a powerful 2-line pitch, or elevator pitch. Get the key point of your business and it's potential across fast, then try to set a follow up meeting or call. If an investor wants to learn more on the spot, that's awesome, but don't push it.
Need help preparing for SLUSH 2019? Check out our Marketing Services!
3.How to meet corporates
Ilkka: "Go to their booth — the Managing Director might be there and there's probably no way you could set up a 1-1 meeting going through normal channels like cold emails or LinkedIn connection requests."
If companies send delegations to SLUSH, they are serious about meeting people there, so take advantage. Often large companies will send decision makers, making events like SLUSH a prime opportunity to get straight to the top of the ladder. Often it's worthwhile asking someone at the booth for an intro to the right person, for example the person in charge of technology partnerships or R&D innovation. 
4. How to get press
Ilkka: "Don't wait until the event"
Large-scale conferences like SLUSH attract hundreds of journalists, who are looking for topics / companies to write about. However, they have very little time to digest material at the event, or write articles. 
Research which journalists are going to the event at least a month in advance. Send details of your news (e.g. a press release) and set up a call in advance. The journalist may then come to find you at the event for a short interview or to get a photo for the story.
If you've paid for a booth at the event you can ask the event organizers for a press list well in advance of the conference and they may send it through to you — no harm in asking.
Need help preparing for SLUSH 2019? Check out our Marketing Services!
5. How to design your booth
Ilkka: "You'll see a lot of bright lights and flashy colors at SLUSH. Try to design your booth with big bold colors." 
SLUSH is a competition for attention. Anything you can do to stand out from the crowd is probably a good idea (as long as you don't break the rules).
Ilkka: "Don't talk to me about swag."
SLUSH organizers don't like swag because most of it ends up in trash cans (or on the floor). If you're going to take swag to SLUSH, keep it small and useful. Sendgrid bring the most comfortable t-shirts available to conferences they attend. I've got two that I've had and worn for years. Spending a bit extra on quality is worthwhile.
6. How to stand out
Ilkka: "Startups that solve a problem I've been thinking about for some time tend to stand out." 
You and your company are unique. If you really embrace your uniqueness and present your company with passion and confidence, you will stand out. You won't be memorable to everyone, but that's also OK. If the people you want to make an impact with remember you, that's all the matters.
Need help preparing for SLUSH 2019? Feel free to get in touch with us at G3 Partners – we've helped dozens of startups prepare for international conferences, like SLUSH. Available support includes (but is not limited to): investor pitch deck development, marketing brochures, booth banners and media support. Reach out, we'd love to chat.
Need support for your next conference attendance? Contact us and we'll set up a free initial consultation.